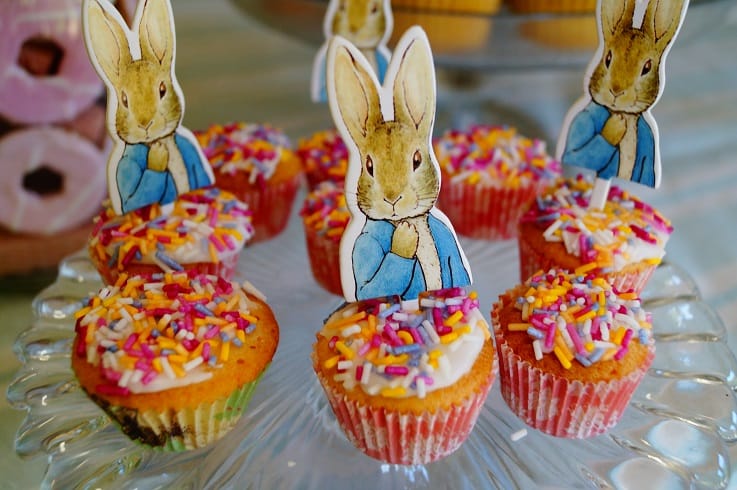 A bit of a do – Peter Rabbit Style!
There's something rather special about a first birthday isn't there? Turning one is such a milestone and warrants a certain amount of effort on the party front…Even if they won't remember it!
Last month I was given the opportunity to plan and host my Grandsons 1st Birthday party. (You can just imagine my excitement!)  It was to be a small family affair and (as we were in the middle of some major refurbishment in the house) it would be a little compromised as space (and time!) was limited. The hallway being light and airy with a view of the garden (and the only room unaffected by all the upheaval) seemed the obvious (if not the only) choice as the party area. As it happens, it worked so well, it's likely to be used again!
To my absolute joy I was given reign to come up with any theme I wanted and already knowing what this would be, ideas began to hop around in my head. What else could it be but a traditional Peter Rabbit Party!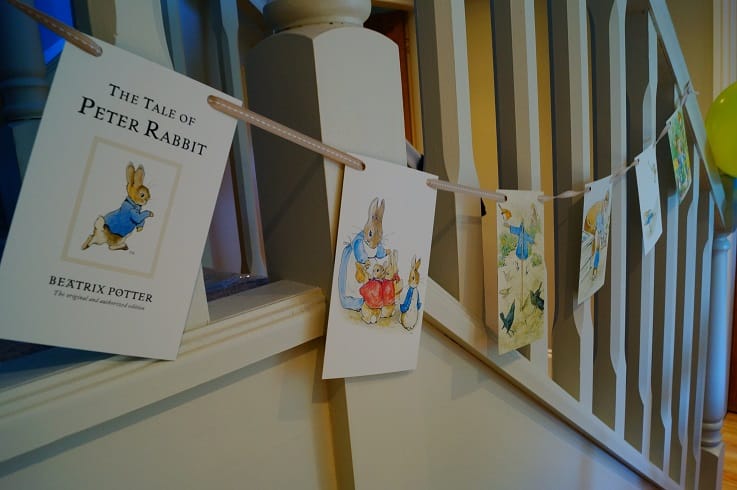 And I was in my element! From home-made bunting to marshmallow bunny tails, veg pots and a cauliflower tissue paper centerpiece, coming up with ideas and putting it all together was the most fun I've had in ages!  Now not that there weren't some challenges… Planning around building works, running a business from home, working out party food for a dairy free one year old and the usual family melt downs is no mean feast! I literally had 2 days in total to plan, organise and implement it! Never one to say no to a challenge, there was nothing for it but to make a list and hop to it!  Having a limited amount of time to plan certainly makes you focus and if I do say so myself…It went pretty well!  That is, if we overlook the Rabbit Jelly that didn't want to leave its mould and when it did, looked a bit like road kill!
But moving swiftly on… If you're thinking of hosting a Peter Rabbit Party too it really is such fun and has so much scope for being creative. Given longer I would have done much more but if (like me) you need to create something and you're pushed for time, here's just a few tips and ideas that work a treat!
Thank you for reading our blog, we really hope you've enjoyed it. We are a gift and gift wrapping company and teach lots of creative skills at our workshops. Information can be found at www.moreprettythings.co.uk