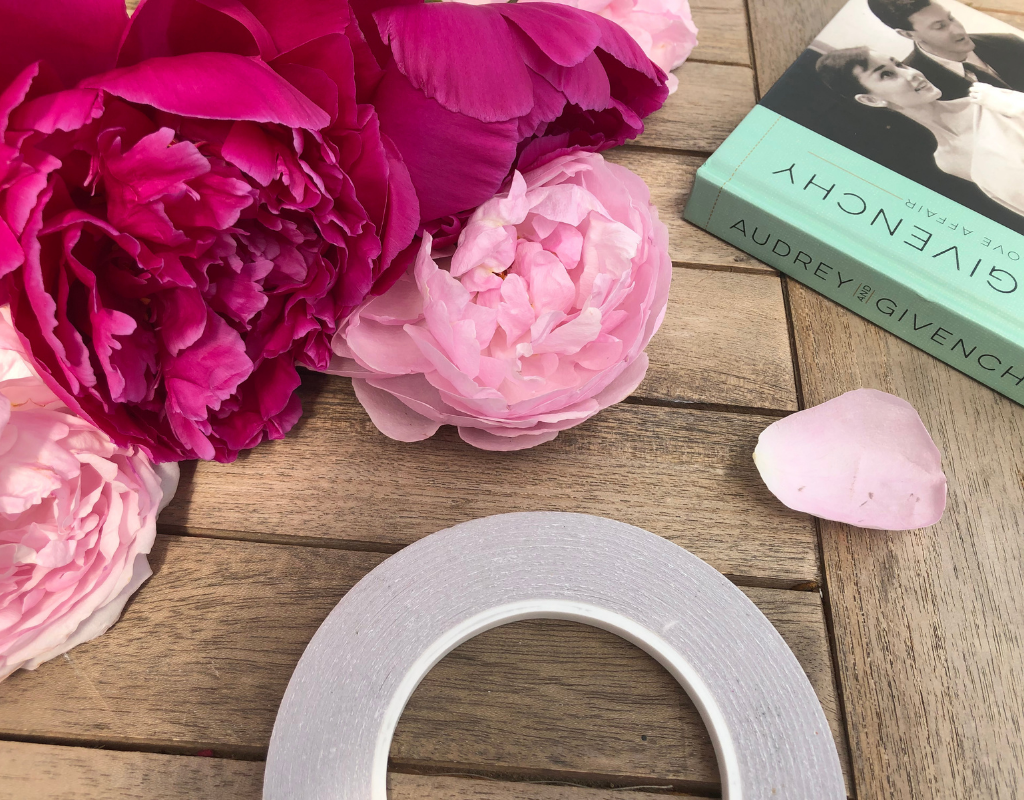 Love fresh flowers in your home? Here's our top tip to ensuring your arrangements always look their best!
There's something really special about seeing a pretty arrangement of flowers in your home, particularly when you've grown and arranged them yourself.
I'm no green fingers for sure but are lucky enough to have planted several pretty plants in our country garden that have miraculously survived being located on the side of a hill that can (even on a beautiful summers day where it's 'cracking the flags' less than 5 miles away) be as windy and as brisk as it gets (think wuthering heights kind of bleak weather).
So, what with the weather conditions and my lack of intervention (which in my defence is based on time constraints not for want of enthusiasm), I'm surprised we've anything other than weeds growing but nature is a funny old thing and thankfully so, as this year I have the most amazing crop of chalky pink roses and magenta peonies which seem to have grown a custom to (nay …are thriving in) this little Yorkshire village's own micro climate.
So it would surely be rude not to bring them inside (for shelter) and enjoy them and their beautiful scent for days to come.
This would of course mean doing them justice and displaying them nicely and whilst I'm no florist, I am told I have a way with flowers but truth be known its just a crazy passion for pretty things and a little hack involving my 'go to' for most things and best friend in the wrapping room…Extra thin Double Sided Tape!
Yes you heard that right…Not only is it the best way to get a professional look on your wrapping and a quick last minute way to hold your skirt hem up while you can sew it but it works wonders in keeping your blooms in perfect position!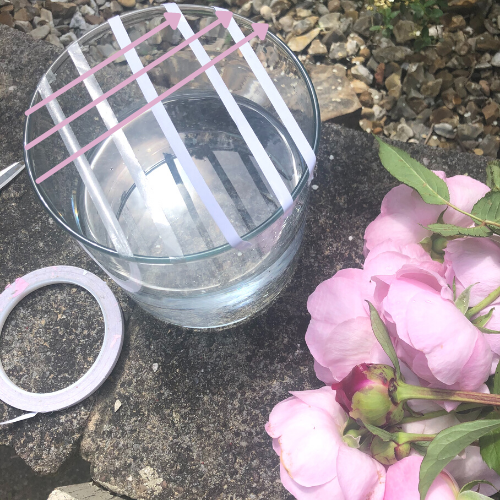 Simply fill your container with water and then place strips of easy tear extra thin (no scissors needed) double sided tape from edge to edge (one way only at first), then (and it's very important to do) remove the white backing to reveal the sticky. Next, do exactly the same but the opposite way. We've shown this with the pink arrows but you'd need to keep going as you did before (all the way across) to make yourself a grid that your blooms will sit perfectly in between.
It's then as simple as cutting your flowers to the length you want them (I always cut the ends at an angle not straight) and then adding them into your grid where you want them (you don't need to use all the holes in the grid just the ones you want). Oh and just a little remember that some blooms will need more room than others ie Peony buds won't stay little for long so be sure to give them some room to expand. (The little buds you see on the pic below are actually now bigger than the roses!
The grid you've cleverly created will ensure your gorgeous flowers won't fall over and will sit where you put them but because the tape is clear it can't easily be seen….Well just see for yourself, here's one I made earlier …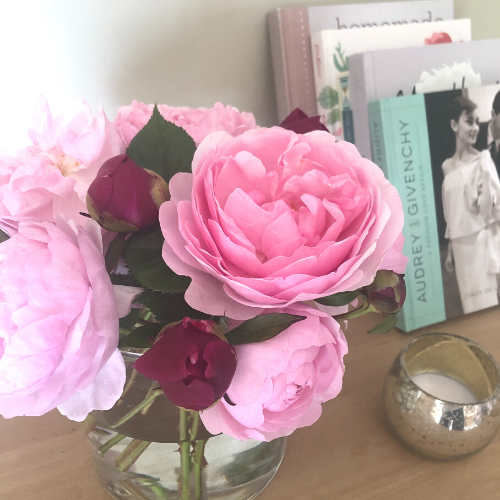 Actually I'm not sure what's more satisfying…Knowing I've grown and arranged these little lovelies myself, or that I'm sharing with you yet another way to use our wonderful easy tear (don't use scissors just tear it with your hands) double side tape! Don't you just love a useful hack in your home repertoire!
Please do pass it on to a friend or feel free to share on social (buttons below) and happy arranging everyone! If you need any (multi purpose extra thin) double sided tape it's really inexpensive and we've got that and more in store!