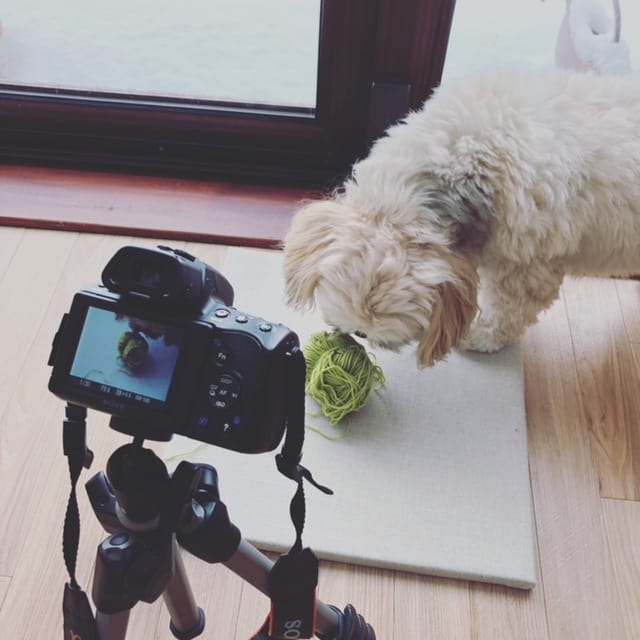 Meet the maker – Life behind a creative business
It's a pretty natural human desire to know more about those around us. Most magazines and media coverage are full to brimming with celebrity gossip and lets be honest, the more normal 'bad hair day' images and tales of burning the dinner being the most interesting and endearing as we've all been there!
I'm not a big follower of 'celebrities' as such but I am incredibly interested to read about other business women, creatives and 'makers'. There are so many talented people out there and to me, their 'behind the scenes' stories are incredibly inspiring.
One of my favourite reads about a 'maker' is that of Cath Kidston. Her book, 'Coming up roses' comes across as a really honest account of growing a business and riding the ups and downs of being a creative business owner, including tackling self doubt along the way.
Creative talents often have plenty of stories to tell and knowing you don't have to be  superhuman is a wonderful message to anyone wondering if they have the talent or ability to start a business journey.  No matter how big a brand , how perfectly polished the images we see are, or as wonderful as the products might be, it's often helpful (and endearing) to know that behind the scenes everything isn't always as 'perfect' as we might think. Workspaces certainly are never quite as tidy and organised as a magazine photo shoot might suggest and even those who seem incredibly confident or who have made the highstreet have had times when they've had to battle their own demons when it comes to self confidence.  There's very few 'self taught' creatives and makers I've met or read about, including Cath Kidston, who hasn't at some point in their career suffered from 'imposter sydrome'!  Sharing these kind of 'real life' stories is so important to those on their journey who perhaps without them may feel a failure and give up on their dreams.
Given any opportunity therefore to surround myself with creatives in a similar boat or share my stories for the benefit of anyone else starting out in business and needing a bit of support, I'm all for it!  So when I recently heard about #marchmeetthemaker, an instagram challenge aimed at creatives and makers, giving you the opportunity to tell your business story (day to day for one month) and reveal behind the scenes info people may not know about you, my ears pricked up!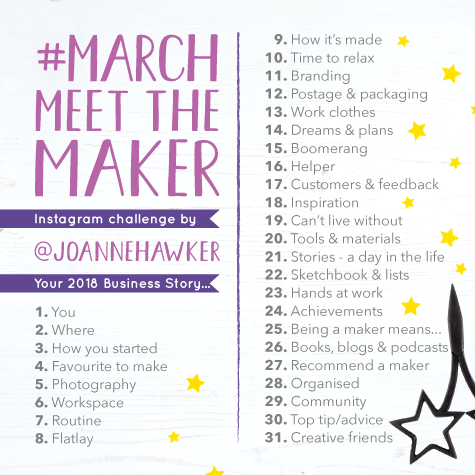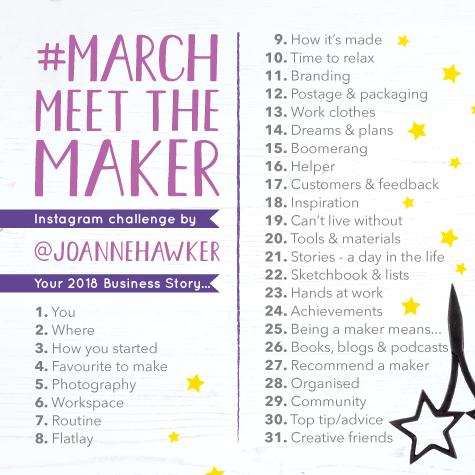 For those not on Instagram or who may have missed it, the idea is you have daily prompts ie Day 1 = 'You' , Day 2 = 'where' and so on. You then take a pic, video etc, write your post revealing things about yourself/business and add the hashtag #marchmeetthemaker as this allows you to be found more easily.  It was I have to say an incredibly interesting exercise and had I have not taken part, would certainly never have revealed the volume of information about my business to my instagram followers that I did (albeit I didn't manage the entire month but that was far more about lack of time than transparency!)..Will try harder next time!
Of course, on the days I did do it, I got to connect with some pretty talented makers and creatives who were doing it too. Some who were completely new to me and others I already knew and now know a whole lot more! And (as it'd be rude not to share) below are some direct links and pretty pics too of just some (sorry just too many to mention) of those amazing talents including the person behind the idea of 'meet the maker' and who got us revealing all sorts about ourselves, Joanne Hawker.
For direct links to the above instagram accounts just click here:  Joanne Hawker  ~ Clara and Macy ~ Little Button Bakery  ~ Leafy Couture  ~ Ellies Farm Shop ~ Chris Made This
If you're already on Insta then please do give them a follow and a 'hello' and please don't forget to follow and tag me in too More Pretty Things Gift Wrapping  and then we'll all be connected!
Of course if you're not on instagram (yet!) you may be a bit perplexed as to all the talk of it and the hashtags but honestly, it's not at all complicated and you don't need to use hashtags unless you want to. If you do need a quick guide to being on there or any help, just get in touch, I'm happy to share with you all I know about it, which happens to be very little but as you can see, this doesn't prevent me being on there and it being my absolute favourite of all the social media platforms….It's all those pretty pictures popping up each day that does it!  #loveinstagram  And on that note…Off I go to check if you've found us and here's a few of our recent posts to hopefully tempt you to join us and see what else we'll be posting!
Know someone who might be interested in our blog post? Please feel free to forward this post or share on social media!
For more information about our Gift Wrapping Workshops and visit www.moreprettythings.co.uk and if you'd like to to keep in touch by receiving our E-newsletter then simply pop your email address in the box provided on our home page!